There was a time when shame was a powerful force in American politics. That time is not now.
Congressman George Santos is the embodiment of how times have changed. At the State of the Union address, the freshman Republican from New York famous for fabricating major elements of his life story made sure he had a coveted on-camera position near the center aisle.
That's where he ran into Sen. Mitt Romney, a decidedly old-school Republican from Utah. Romney gave him an earful, and afterward told reporters "he shouldn't be there and if he had any shame at all, he wouldn't be there."
Santos, who faces multiple investigations for his questionable ethics, was defiant. He has resisted calls to resign from local Republicans like New York state Sen. Jack Martins, who expressed frustration at a recent press conference.
"It is probably impossible for us to get someone who has no shame to do what is right," Martins said.
This is not the way things used to run, said Patrick Leahy, who recently retired after 48 years as a Democratic senator from Vermont.
"The fact that he is still here is a product of this time," Leahy said. "When I came here, Republican or Democrat, his own party would tell him you have to go."
It was conservative Republican senators who told former President Richard Nixon that if he didn't resign, he would be removed by a Senate conviction, Leahy noted. Nixon resigned before he could be impeached.
But the United States is now in an era of post-shame politics. For a politician willing to put up with embarrassment, condemnation, a raft of jokes from late night comedians and a swarm of reporters chasing them day after day, surviving scandals is easier than it used to be.
It didn't work for Anthony Weiner
Former Democratic Congressman Anthony Weiner — now a local radio show host in New York — has been following the Santos drama with interest.
"We seem to be in a national version of that schoolyard game, 'Top this' — that if you do want to get into the shame hall of fame, you have to do a lot more than you had to do even 10 years ago," Weiner said.
A little more than 10 years ago, Weiner tweeted out an up-close image of himself in boxer briefs. He lied about how it happened, and it only got worse from there. He ultimately resigned. Weiner later served time in prison for texting obscene material to a 15-year-old.
"I still today have people who stop me on the street and say, 'you know what, you probably could have survived that scandal if you just put your head down,'" said Weiner.
Weiner doesn't agree. For one thing, Democratic leadership made it clear he had to go. And he said being in Congress isn't just about showing up. It's about relationships and getting things done for your constituents.
"It's really hard to do that when quite literally no one wants to be seen with you," said Weiner.
Drew Angerer/Getty Images
Short of arrest, there's little way to rein in a shameless politician
Santos has lied about, among other things, being Jewish, his mom dying on 9/11 and having employees killed in the Pulse nightclub shooting. But Republicans — who have only a narrow majority in the House — have shown no real desire to force him out.
Political scientist Lara Brown said short of arrest, there is little to rein in a politician who just doesn't care what people think.
"Everything else is just about some level of personal pride and shame," said Brown, who wrote her dissertation about congressional scandals. "And if you are completely shameless, then you can get away with quite a bit in our world."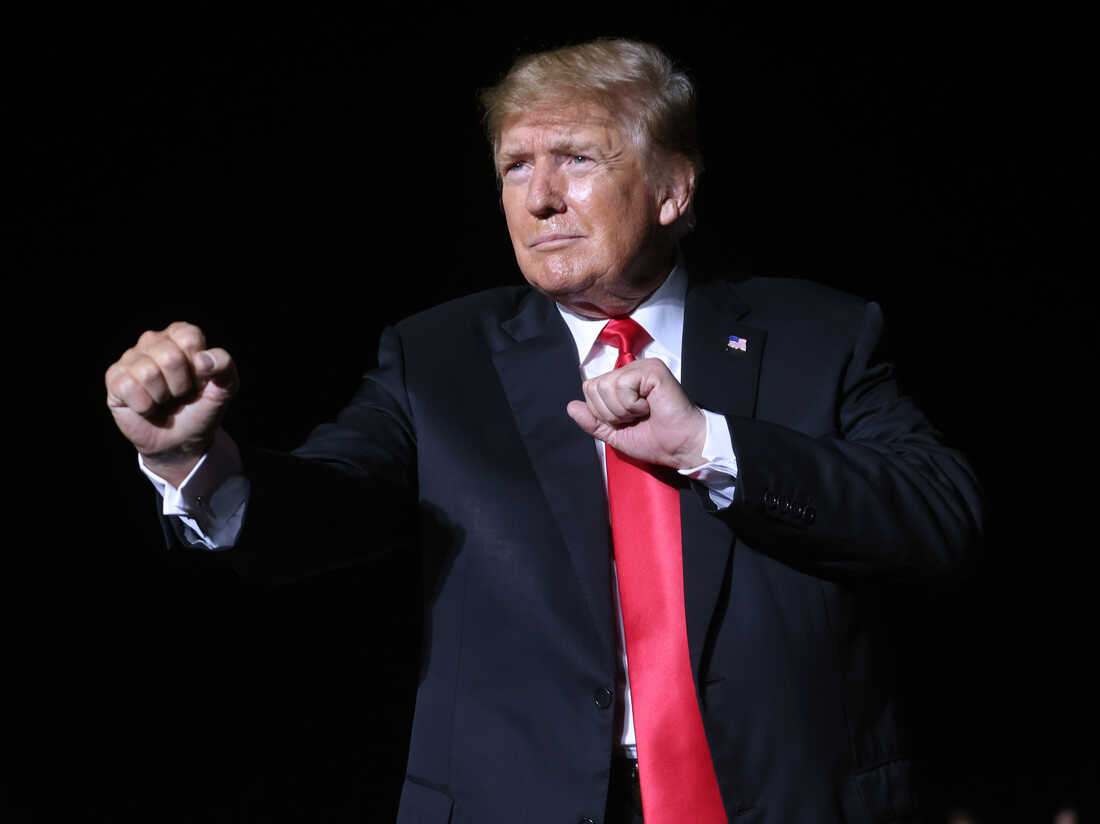 Trump was a master of showing no shame
Former President Donald Trump proved again and again that the rules of political gravity only apply if you care about the rules. Just a month before he was elected in 2016, old television footage came out of him casually describing groping women.
"When you're a star, they let you do it," Trump was heard saying. "You can do anything."
Some Republicans called for him to step aside. Some laid low, refusing to defend him. Trump somehow turned it to his advantage saying the media and establishment were out to get him.
Then came Greg Gianforte, a Republican candidate for Congress in Montana. He body-slammed a reporter on the eve of a 2017 special election, and won anyway. He later pleaded guilty to misdemeanor assault. Before long, Trump had turned it into a punchline, imitating the motions of a body slam on stage at a rally in Montana.
Gianforte just kept on winning and now he's the state's governor.
Logan Cyrus/AFP via Getty Images
Democrats and Republicans face different kinds of pressure
In 2019, then-Virginia Gov. Ralph Northam, a Democrat, faced a scandal about decades-earlier dressing up in blackface. A who's who of Democrats demanded that he resign, but Northam persisted and eventually the controversy faded.
Northam is an exception of a Democrat who gutted it out, said Tim Miller, who worked on Jeb Bush's presidential campaign. Miller said the political shamelessness is asymmetrical because Democrats and Republicans face different degrees of public pressure.
Democratic politicians pay attention to bad headlines in the mainstream media because "Democratic voters care and the media environment that Democrats are in lends itself much more to accountability," said Miller, a former Republican.
For Republican politicians, said Miller, it can be easier to hang on. "Donald Trump and the conservative media echo chamber has made powering through a lot easier than it used to be," he said.
There are corrosive effects of post-shame politics
Shamelessness can give a politician staying power, but it is also corrosive. Lara Brown, the political scientist, said it reinforces the notion that all politicians are liars.
"Most people when they think about politics, they think about our institutions, they think about Washington in general, they believe that all politicians are corrupt," Brown said. "It's all rigged. It's all a lie."
Not only does that degrade trust in institutions, Brown said it leads people to believe that if it is rigged anyway, they might as well rig it in their own favor.