Key events
The National Oceanic and Atmospheric Administration has laid out the predicted path of Hurricane Ian as it is expected to hit land this afternoon.
Hurricane preparations have been underway at the Big Cat Rescue, the animal sanctuary in Tampa famously featured on Netflix's 'Tiger King' TV series.
Speaking to the Weather Channel, sanctuary head Carole Baskins laid out the measures BCR has taken to prepare for the hurricane.
"Unfortunately if a cat does escape, we have sedation drugs, we have a vet on call. But if a cat starts to exit the property, we have to shoot to kill," she said.
Around a dozen staff will take shelter in the gift shop and also patrol the sanctuary grounds, the Weather Channel reports.
Additionally, fuel and generators are being kept readily available to ensure that the animals do not miss any mealtimes.
"Usually what happens after a storm is we start getting calls about wild animals running loose in Florida and so if it is an exotic cat that you see, do give us a call and we will help respond with the Florida Wildlife Commission to bring that cat into safety," Baskins said.
Hurricane Ian's eyewall 'coming onshore'
It's 11am eastern time, and the National Hurricane Center has just released its latest advisory on Hurricane Ian.
The category 4 storm's "extremely dangerous eyewall" is "moving onshore", the NHC says, and "will cause catastrophic storm surge, winds and flooding in the Florida peninsula soon".
The official landfall is not declared until the center of the storm reaches land, which will happen in the coming few hours.
The cities of Fort Myers, Port Charlotte and Cape Coral lie directly in Ian's path, with effects stretching for hundreds of miles along the Florida coast either side and inland.
"Ian is expected to make landfall in southwestern Florida in the next few hours as a catastrophic hurricane," the NHC says, repeating its warnings of a storm surge up to 18ft, and winds of 155mph at landfall.
You can follow the latest storm track models and hurricane center's predictions at their website here.
There's been a briefing at the headquarters of the Federal Emergency Agency, where administrator Deanne Criswell has been warning Florida residents not to focus just on the areas of Hurricane Ian's landfall.
"The majority of the state of Florida is in Ian's crosshairs," she said.
"We need everyone to heed the warnings of their local officials before during and after the storm.
"These are life saving messages that simply cannot be ignored. Water is dangerous, period, from coastal storm surge to inland flooding. Never drive through standing or moving water, as it takes only a few inches of water to carry away a vehicle.
"Second, if you are taking shelter in an area with rising water levels, quickly find higher ground. And third, never operate a generator in your home. Too many lives are lost each year due to carbon monoxide poisoning."
Biden: Hurricane 'no excuse' for gas price gouging
Joe Biden is warning gas and oil companies not to use Hurricane Ian as an excuse for price gouging.
Speaking in Washington DC at the White House conference on hunger, nutrition and health, the president also said he'd spoken with Florida's Republican governor Ron DeSantis and made "an absolute commitment" of federal resources to help the state during and after the storm:
I made it clear to the governor and the mayors that the federal government is ready to help in every single way possible.

When the storm passes, the federal government will be there to help you recover, we'll be there to help you clean up and rebuild to help get Florida get moving. We'll be there at every step of the way. That's my absolute commitment to the people in the state of Florida.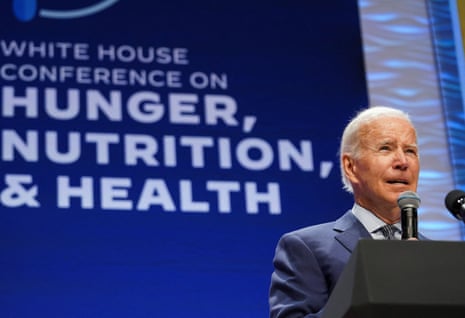 Biden has approved DeSantis's request for a federal emergency declaration and set aside, temporarily at least, bitter political differences between two men who could be rivals for the presidency in 2024.
He said hundreds of Fema (Federal Emergency Management Agency) personnel, thousands of National Guard members and teams of search and rescue teams had been deployed from federal agencies:
They're already on the ground and ready to help as we speak. Fema has requisitioned literally millions of liters of water, millions of meals and hundreds of generators. We have a scheduled everything we can possibly do.
He closed his remarks with the warning to energy companies:
This warning is to the oil and gas industry executives. Do not, let me repeat, do not use this as an excuse to raise gasoline prices and gouge the American people.
Florida governor DeSantis: 'Pray for people'
Florida's governor Ron DeSantis says Hurricane Ian is an historic storm that's going to leave "an indelible mark" on the state.
He's just been speaking at a press conference in Lake City as the storm edged closer to Florida's south west coastline:
Pray for people. This is a major, major storm.

There's some storms that really leave an indelible impact… this is going to be one of those historic storms and it's going to shape the communities in south west Florida and have a profound impact on our state.

So we just ask people for their thoughts and their prayers.
DeSantis said Florida had coped with numerous storms in the past, and would deal with this one and move on.
It's never fun to have damage. It's never fun to see flooding. It's never fun to see power interrupted. But you kind of deal with it. And then you move forward.
About 30,000 electricity linemen, numerous urban search and rescue teams and 7,000 National Guard troops from Florida and elsewhere are ready to help once the weather clears, the governor said:
The assets we have are unprecedented in the state's history and, unfortunately, they'll need to be deployed.
Here's the updated official storm surge projection from the National Hurricane Center in Miami, which says up to 18ft of water from the Gulf of Mexico can be expected in some areas close to Ian's imminent landfall.
In addition, up to 2ft of rain is expected in the next 24 to 48 hours in the most heavily impacted areas.
Hurricane Ian won't make landfall until this afternoon, but some areas of Florida have already suffered substantial damage from tornadoes spawned in the storm's outer bands.
On Tuesday night in Broward county, on Florida's south east coast, several small planes were overturned at North Perry airport, and numerous trees came crashing down.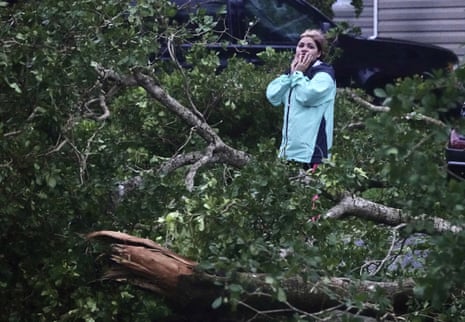 Florida Power and Light, the state's largest energy provider, is warning that power could be out for "days" for those in Ian's path.
In Tampa, hundreds of residents have been evacuated from several nursing homes and hospitals in anticipation of power loss.
Fema chief: 'This is going to be a catastrophic impact'
One of the mantras of major hurricanes is that you can shelter from the wind – which is up to 155mph in the case of Hurricane Ian – but you can't hide from the water. Officials fear the storm surge of up to 18ft, predicted by the National Hurricane Center in Florida, will be deadly.
Deanne Criswell, administrator of the Federal Emergency Management Agency (Fema) has just been on CNN to explain the risk:
This is going to be a catastrophic impact, and not just where we're going to see the storm make landfall.

We're really concerned about all of the inland flooding because it's bringing with it a lot of rain and it's going to move slowly, which means people in the path are going to experience the impacts for a long period of time.

My biggest concerns is the water, the storm surge and flooding. Water is one of the leading causes of death, direct fatalities, in these storms.

We know that a lot of people have evacuated but we also know there's people that haven't.
Criswell says a "robust search and rescue capability" of teams from several emergency response agencies including firefighters and the US coast guard has been assembled, and is stationed in Miami, on Florida's south-east coast.
They will go in when it's safe to do so, which might be before the storm has fully passed, she says:
As the storm moves, and as it's safe for our search and rescue teams to go in, they'll start searching those areas to see and assess damage, but most importantly look for people that may need help getting out of the area.

But just because they're out doesn't mean that individuals should be out. They need to stay put until the storm completely passes. And then when they do go out they need to be really cautious.

So many dangers that are going to be out there, with the flooding, the water, the downed power lines.
Good morning, it's Richard Luscombe in Miami, Florida, welcoming you to our live blog covering the imminent landfall of Hurricane Ian, one of the most powerful storms ever to strike the US mainland.
Millions of Florida residents are in the path of the deadly monster storm, and officials are warning of a looming catastrophe after Ian strengthened overnight to just shy of maximum category 5 status, pushing out winds of 155mph at its center.
The hurricane claimed several lives as it tore through Cuba, wrecking western communities and knocking out power to the entire island.
Now Ian has its sights on an afternoon landfall on the south-west coast of Florida, where a predicted storm surge of up to 18ft is liable to cause substantial flooding.
The Florida governor, Ron DeSantis, told coastal residents in Ian's path who haven't already fled that it's too late to do so now. "It's no longer possible to safely evacuate," he said, urging them to shelter in place.
We'll bring you all the developments as they happen.
Meanwhile, please take a read of our news story here: